Allow the light to shine through our cracks
Sage House, located in Boulder, CO, is a wellness studio and experience curator. We blend Eastern practices with outdoor experiences to foster healing and build an inclusive community centered around growth.
Brand Strategy
Identity Design
Art Direction
Print Design
Merch Design
Digital + Social
Web Design
In response to a shift away from hustle culture and a growing universal desire for a slower, more healing approach to life, Sage House has been strategically developed with this ethos in mind. Our creative direction draws significant inspiration from the outdoor culture of a pre-internet era, a time when nature was synonymous with recreation, and digital life had not yet taken precedence.

Recognizing that historically, both Eastern practices and outdoor adventures have often been associated with exclusivity and intimidation, Sage House has set a distinct goal of inclusivity. We aspire to build a community that welcomes everyone and curate experiences with meticulous care to meet the desires of a broad audience.
GUIDED CIRCULAR BREATH WORKSHOP
INDIVIDUAL GROUNDING A SEARCH FOR SYNCHRONICITY
VIVATION BREATHWORK
[5] [15] [30] [15] GUIDED INTERVAL SESSION
Release and Integrate Through Activated Breathe
BREATHWORK GUIDE PROVIDED BY MEA LOCKWOOD

REFLECTION JOURNAL BY WILDEHOUSE
[INCLUDED] MATT / EYE MASK / BLANKET / JOURNAL
​
[PLEASE BRING] WATER / COMFORTABLE CLOTHES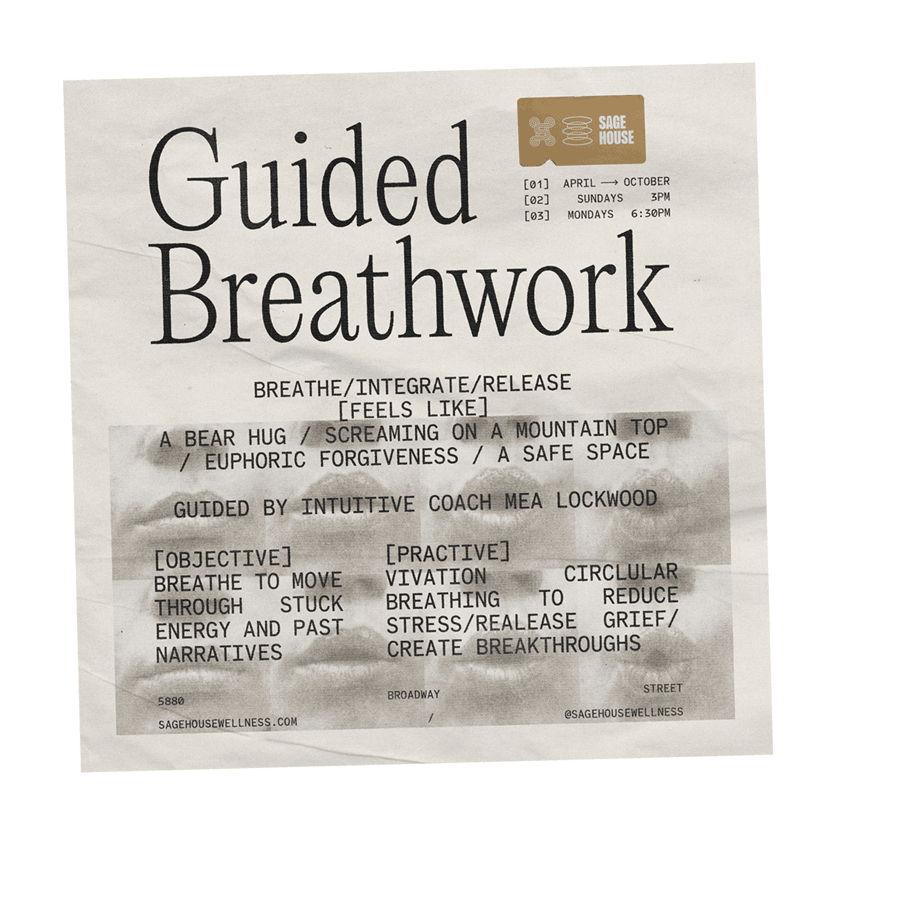 Brand Strategy: Hannah Lynch, Mea Lockwood
Art Direction: Hannah Lynch
Design: Hannah Lynch
Copy: Hannah Lynch